Today, Italians elected Giorgia Meloni as prime minister.
According to exit polls, Meloni is on course to become Italy's first female prime minister.
Meloni is part of Italy's right-wing, populist Brothers of Italy party (Fdl).
Fdl had tremendous success at Sunday's elections, reportedly gaining control of both houses.
BBC reported:
She is predicted to win between 22-26% of the vote, says a Rai exit poll, ahead of her closest rival Enrico Letta from the centre left.
That dominance was underlined by the first projection from Rai, which gave her more than a quarter of the vote for the Senate. Projections are based on concrete results. Italians also vote for the lower house, the Chamber of Deputies.

Ms Meloni's right-wing alliance now looks to have control of both houses, with a projected 42.2% of the Senate vote.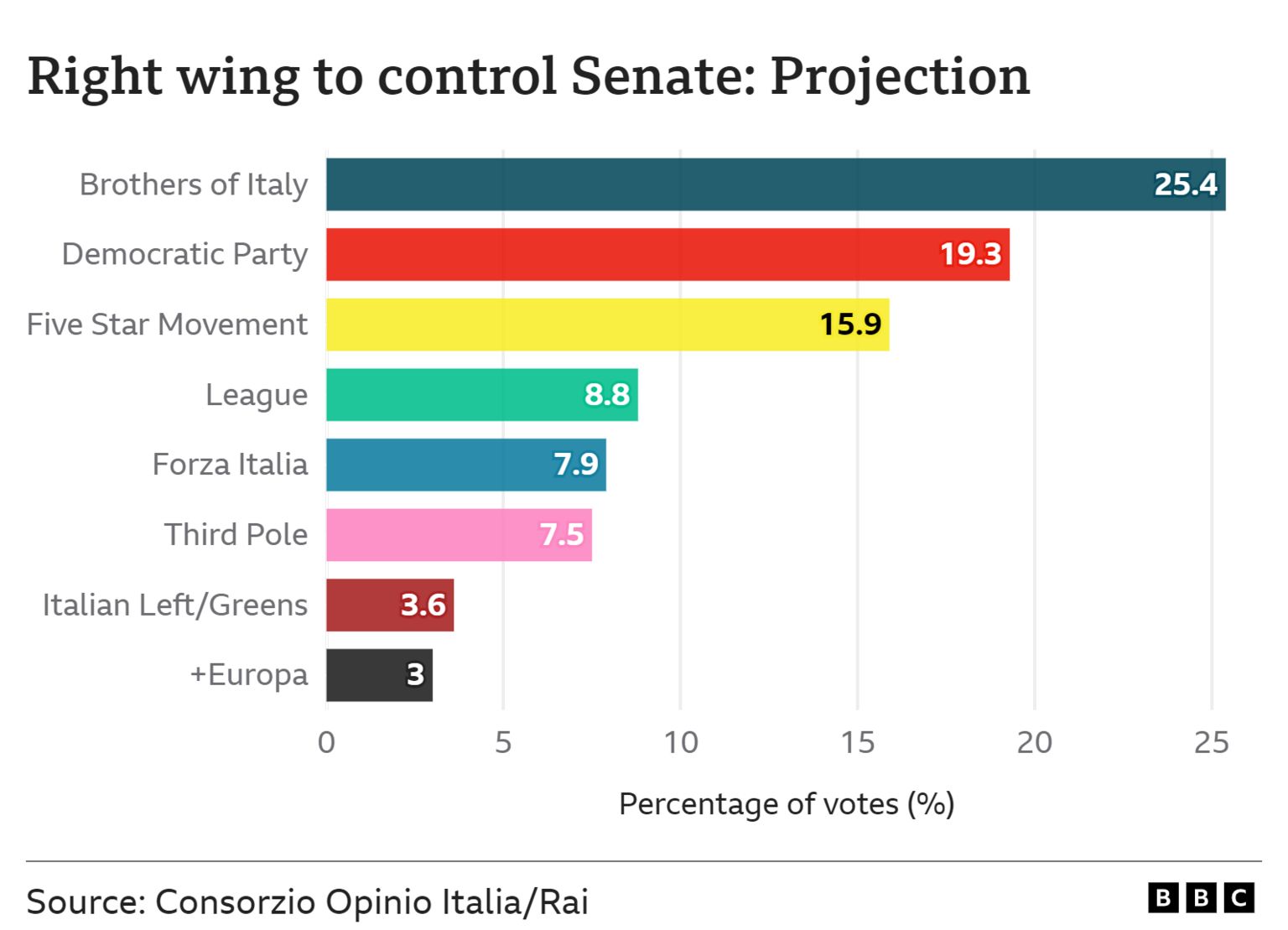 JUST IN – Italy's center-right bloc heads for election victory. Giorgia Meloni to become next prime minister — exit poll pic.twitter.com/7urRH8PKUx

— Disclose.tv (@disclosetv) September 25, 2022
Show your support for women's rights by congratulating the FIRST FEMALE PRIME MINISTER OF ITALY

Giorgia Meloni!

— Cernovich (@Cernovich) September 25, 2022
"I am Giorgia. I'm a woman, I'm a mother, I'm Italian, I'm Christian". – Giorgia Meloni #italyelections pic.twitter.com/7QlY7oBSHL

— Sachin Jose (@Sachinettiyil) September 25, 2022
Brothers of Italy party formed just under 10 years ago. Giorgia Meloni set to become Italy's first female MP. https://t.co/mBtQt65aO7 pic.twitter.com/16X9stsLnc

— Rita Panahi (@RitaPanahi) September 25, 2022
Listen to a few seconds from her speech in Italian:
Al Sud, come in tutta Italia, c'è voglia di reale cambiamento.
E noi siamo #pronti a ridare futuro e speranza alla nostra terra.#ElezioniPolitiche2022 #VotaFDI #Meloni pic.twitter.com/78TlbhR6sm

— Giorgia Meloni 🇮🇹 ن (@GiorgiaMeloni) September 23, 2022
(translation): In the South, as in all of Italy, there is a desire for real change. And we are #pronti to give the future and hope back to our land.
🇮🇹 Hoy Giorgia Meloni se convertirá en Jefa del Estado italiano. Con su liderazgo Europa Occidental se pondrá de pie y detendrá el avance del veneno globalista. ¡VIVA LA EUROPA DE LOS PATRIOTAS!pic.twitter.com/Yk3IFjIfd2

— Candela Sol 🇦🇷 (@CandelaSolSilva) September 25, 2022
(translated): Today Giorgia Meloni will become Head of the Italian State. With your leadership Western Europe will stand up and stop the advance of the globalist poison. LONG LIVE THE EUROPE OF THE PATRIOTS!
---
Mainstream media is comparing Meloni to Benito Mussolini, calling her the leader of a far-right, neo-fascist party.
DW asked if fascism returned to Italy.
CBS News said Meloni's party had neo-fascist roots.
"Italy will be led by the most far-right government since the fascist era of Benito Mussolini, early exit polls suggest," CNN stated.
Meloni, a 45-year-old mother from Rome who has campaigned under the slogan "God, country and family," leads a party whose agenda is rooted in Euroskepticism, anti-immigration policies, and one that has also proposed curtailing LGBTQ and abortion rights.

The center-left coalition, led by the left-wing Democratic Party and centrist party +Europe are set to win between 25.5% and 29.5% of the vote, while former prime minister Giuseppe Conte's bid to revive the Five Star Movement appeared to have been unsuccessful, taking just 14 to 17% of the vote.

The Democratic Party conceded defeat early Monday morning, calling the results a "sad evening for the country."

"Undoubtedly we cannot, in light of the data seen so far, not attribute the victory to the right dragged by Giorgia Meloni. It is a sad evening for the country," Debora Serracchiani of the Democratic Party told reporters.

Sunday's snap national election was triggered by party infighting that saw the collapse of Prime Minister Mario Draghi's government in July.